the broncos made the playoffs.
this means that DH is occupied. and that baby G, oblivious to anything that isn't shiny and reflective, is easily entertained in between plays. i have just blissfully eaten half a box of chicken in a biskits (so weird that the weight isn't just falling off!) and am taking this opportunity to update the blog before my blood sugar tanks and i pass out.
we had a
really
good christmas.
we traveled back to home state and got to introduce our new addition to most of our family and friends. just like every other trip, however, there were lots of people we missed. DH and i have been talking about going back to home state for a LONG time, but, now that we have a child, the need to be back is even stronger. i am trying (and sort of miserably failing) to be optimistic that the economy is strong enough now that we could find other jobs without shredding every ounce of financial security that we've worked so hard to maintain. i also have my doubts that i will ever find a job as good as the one i have. the schedule is pretty hard to beat. i don't know many attorneys that can work from home some of the time and get every other friday off. maybe i could swing a part-time firm job somewhere and stay at 40 hours? ha.
anyway, being home was nice. and it was especially awesome because it was baby's first christmas - which meant that we got to take a lot of obligatory "first" pictures and there were extra "oohs" and "ahs" every time he so much as grinned. i think he already knows how cute he is.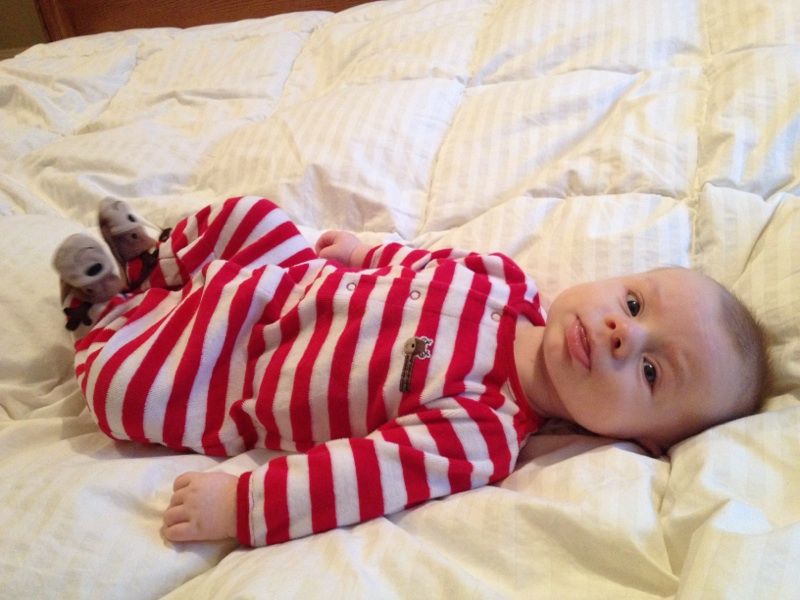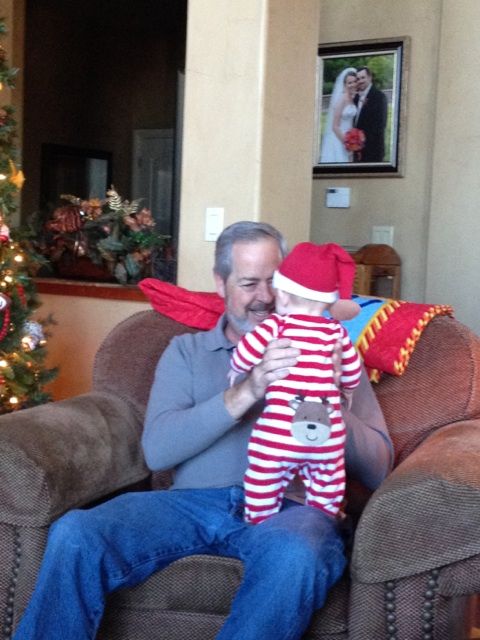 while we were there, we also had a nice
baby blessing ceremony
. we weren't excited to have a traditional baptism (neither of us are religious in a traditional sense) - but i wanted to do something to welcome our son into the world. i bought
this
book to help me plan the ceremony and i LOVED it. my favorite part of the ceremony was having everyone that was there (at their option) say something to baby G. my brother-in-law read a meaningful passage in hebrew. my otherwise stoic cousin (who we selected as the baby's godfather) teared up a little bit. and DH told his sister what she means to him. it was candid. it was love-filled. it was...awesome.
obligatory godparent photo (we gave my cousin a godfather t-shirt. i'm bummed there's not a picture of that!):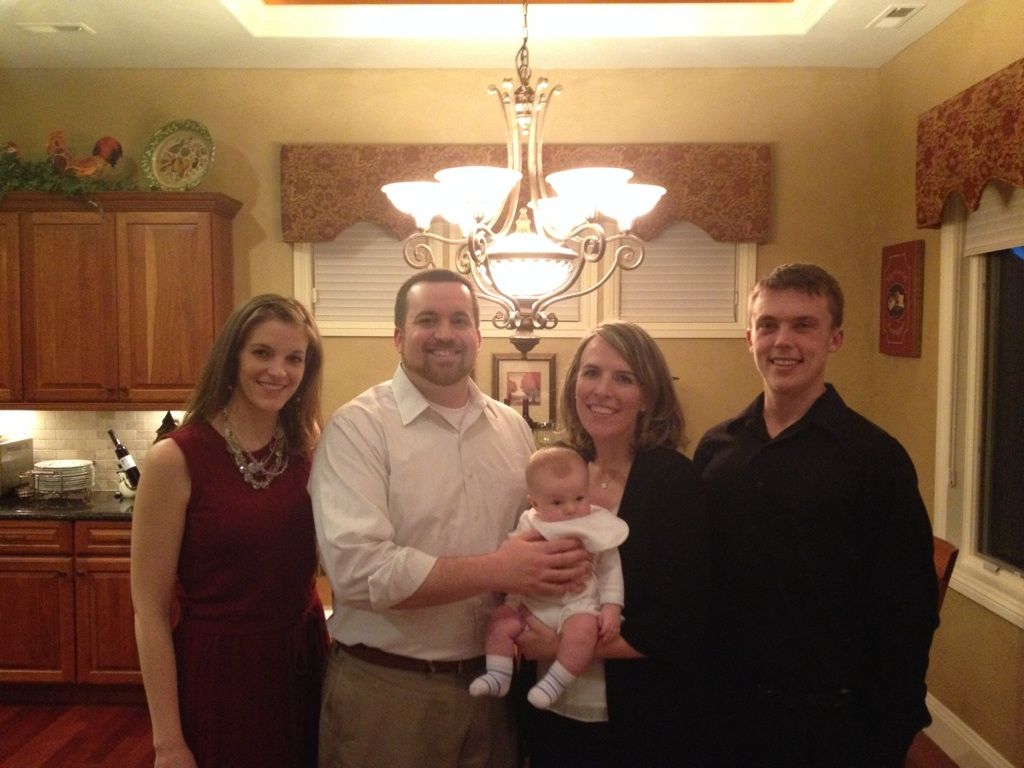 DH and i also had time to start mini family traditions of our own. we followed a local newspaper's guide to christmas lights and got to see some crazy displays.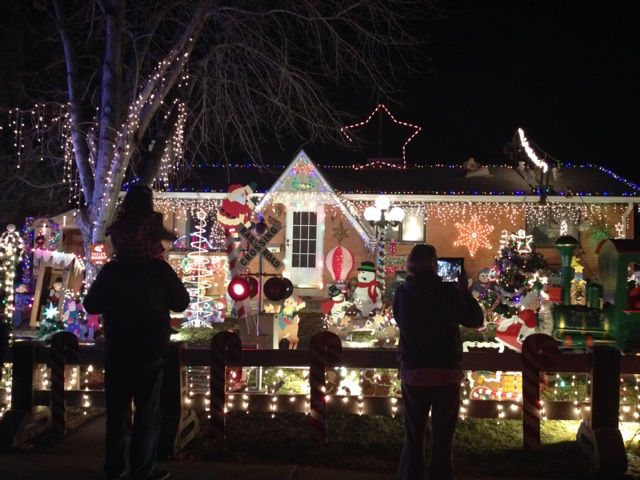 and, of course, we saw the local city and county building. i remember going there every. single. year. as a kid to stare at the pretty colors. as an adult i must admit that the view is just as great from the inside of a warm vehicle. who knew.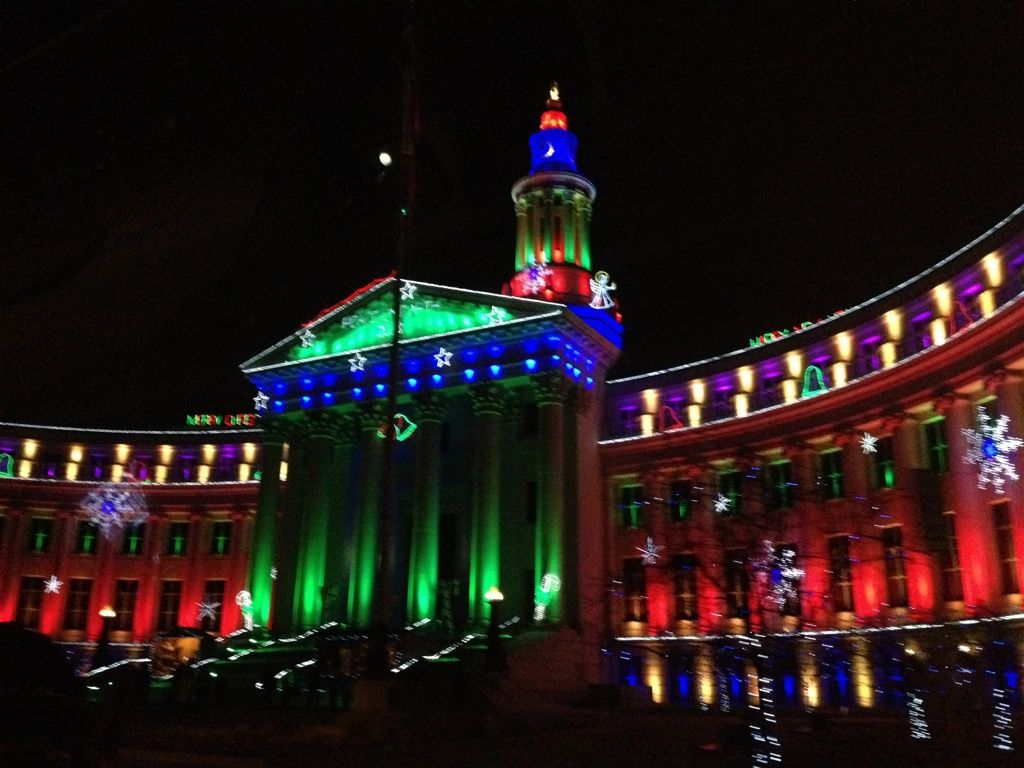 DH's parents also put together an impromptu photo shoot that allowed us to get some pictures of our new family. i really wish that the dog could have been in them. it occurred to me that we have yet to spend a single christmas with her (rumor has it english bulldogs don't fly well, lol) - but we can always do a creepy photoshop add later on, right?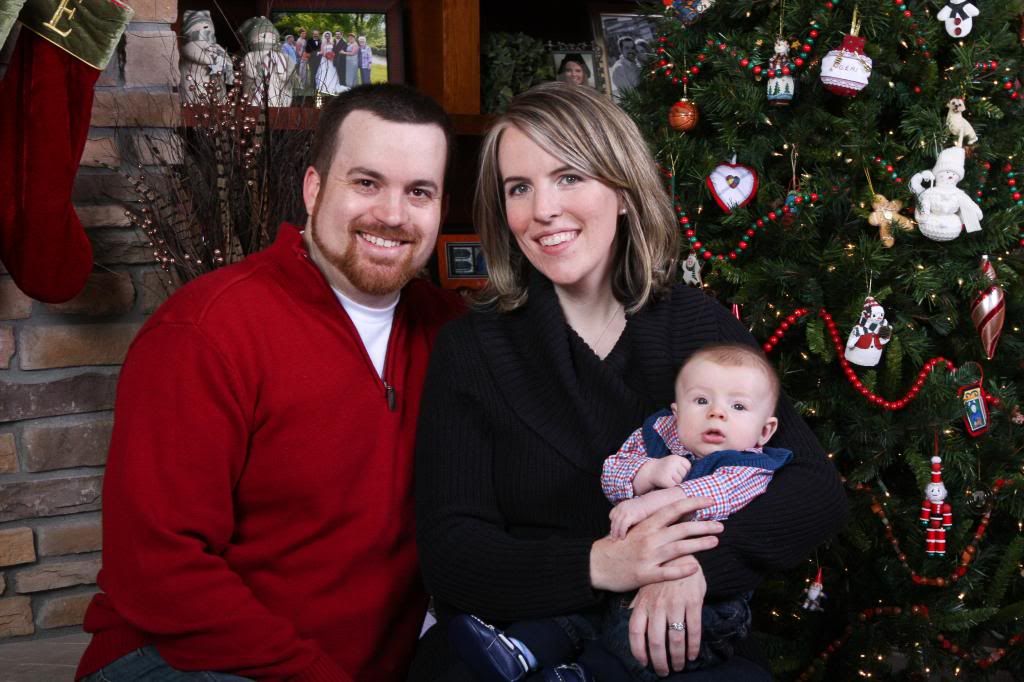 our focus was a little off...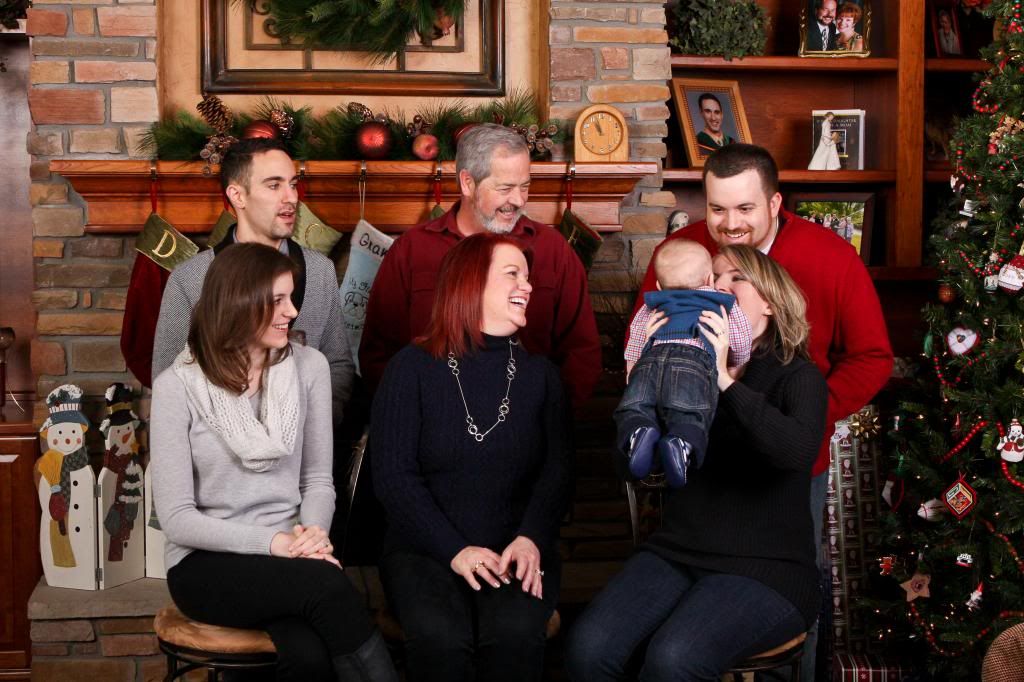 but that still might be my favorite picture. what a blessed little man.
baby G was amazing on the flights to/from home state, too. i was the super obnoxious smug parent that just sighed and smiled as we were told by fellow passengers what a good baby he was. (ha. we'll see if i eat those words next time we travel!)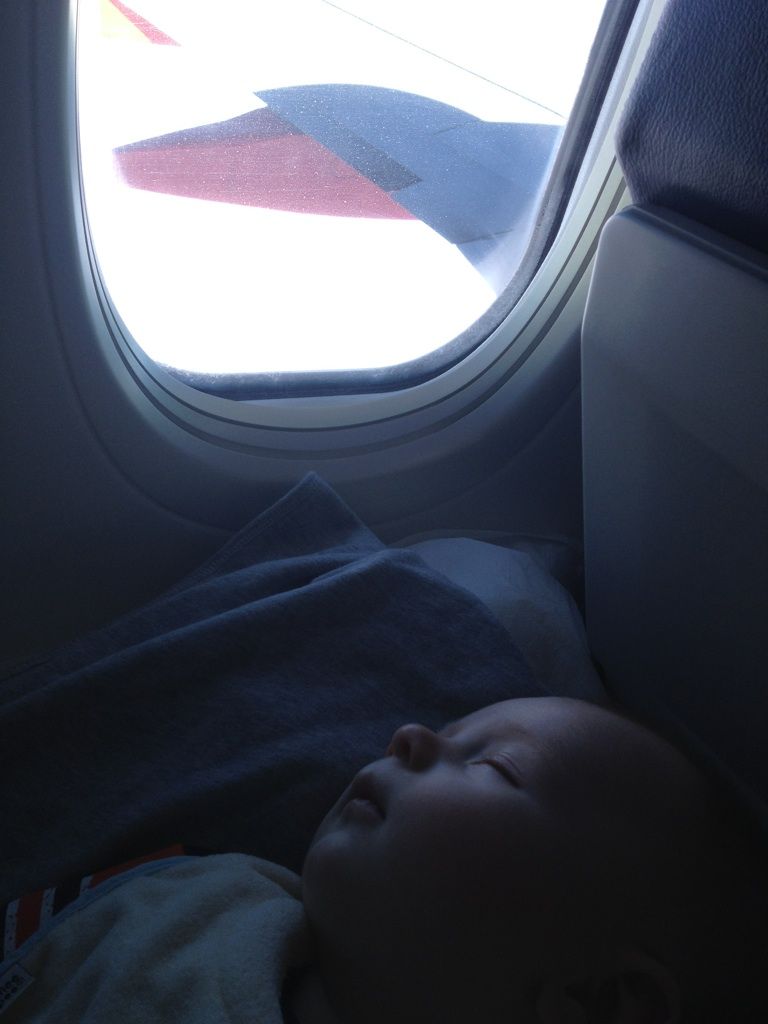 he was even able to meet a green screen santa in the airport: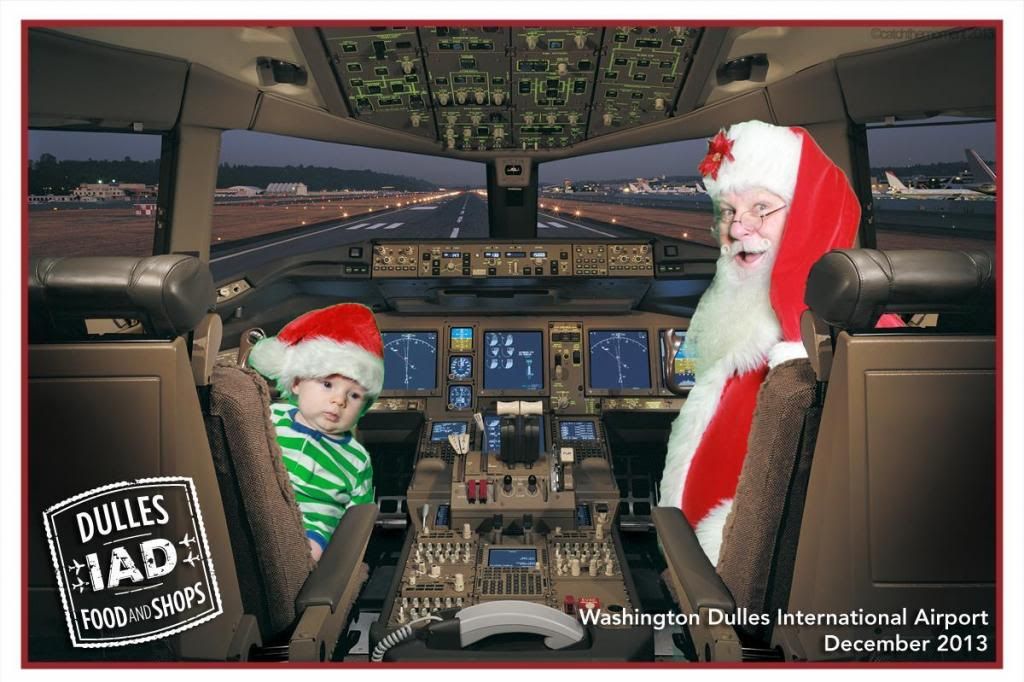 people always say that the focus of the holidays changes once you have kids. it's definitely true. DH and i couldn't think of anything we wanted for christmas that wasn't baby-related. last year it was all about wine and going out. this year it was all about tight swaddles and trying not to get drunk off 2 sips of alcohol. and the best part was realizing that i'm ok with the change. i wouldn't trade it for anything. my giant layer o' sarcasm is often hiding behind an even bigger layer of mushy baby love. (but don't tell anyone.)