bucket listing
DH and i recently got the wonderful
and stressful
news that we will finally be going back to home state because i got a job at another federal agency! my mood about it as been fluctuating about every 15 minutes because i cannot wrap my head around the fact that, after NINE years away, we actually get to go
home
. i have a slight fear that i have been romanticizing home state the way people romanticize old relationships. was it really
that amazing
? or is it just that i've selectively blocked out everything that wasn't so great? i suppose time will tell. the one thing that is devoid of doubt is that both DH and i will get to be back with (most of) our families. and that, of course, is invaluable. knowing that i can watch LB form relationships with so many people
in person
is still such a crazy concept that i can barely imagine it. but we will be there soon. as in, two weeks soon.
at the moment, however, i am sitting in my bedroom staring at the mass amounts of
crap
valuable possessions that we have. as someone that has moved
nine
times in the last eight years (2x across the country!), i am familiar with how this goes. and man oh man, i wish i could just click my heels and wake up when the process is over. it seems like the logistics of the move can kill even the best of what's to come (namely, being in home state and having bought a house there that we might actually stay in more than 12 months?). but we will forge ahead. in terms of blogging, i am half considering starting a "do it yourself" portion on here to chronicle what i am sure are going to be some hilarious
and frustrating
attempts at making the new house beautiful. we shall see. i think i still have hopes of becoming a "lifestyle blogger" and living off the fruit of viewer clicks...
anyway, before any of
that
can get going, i suddenly realized that we have to "finish"
this
stage of life. and that is why DH and i agreed to a truncated bucket list of things we must do prior to leaving the DC area. here's what we've been up to:
we went to virginia beach, va and stayed
here
. cute little place a couple blocks from the beach. as pale
vampire-esque
people, DH and i rarely elect to willingly take on a beach vacation, but a friend from law school happened to be there and we agreed to go to prematurely celebrate her upcoming 30th birthday.
while we were there, LB and i swam in a rooftop saltwater pool and ventured to the ocean (it was LB's first time!).
we wore insane amounts of sunblock the whole time, but we have plenty of photos that prove that you can enjoy the vacation life even with a hat on.
LB and i have also been doing some brunching. he's generally a really good date so long as the stream of food never stops and we've gotten to go to cool (albeit suburban) places like
matchbox
,
mon ami gabi
,
paladar
, and
comet ping pong
.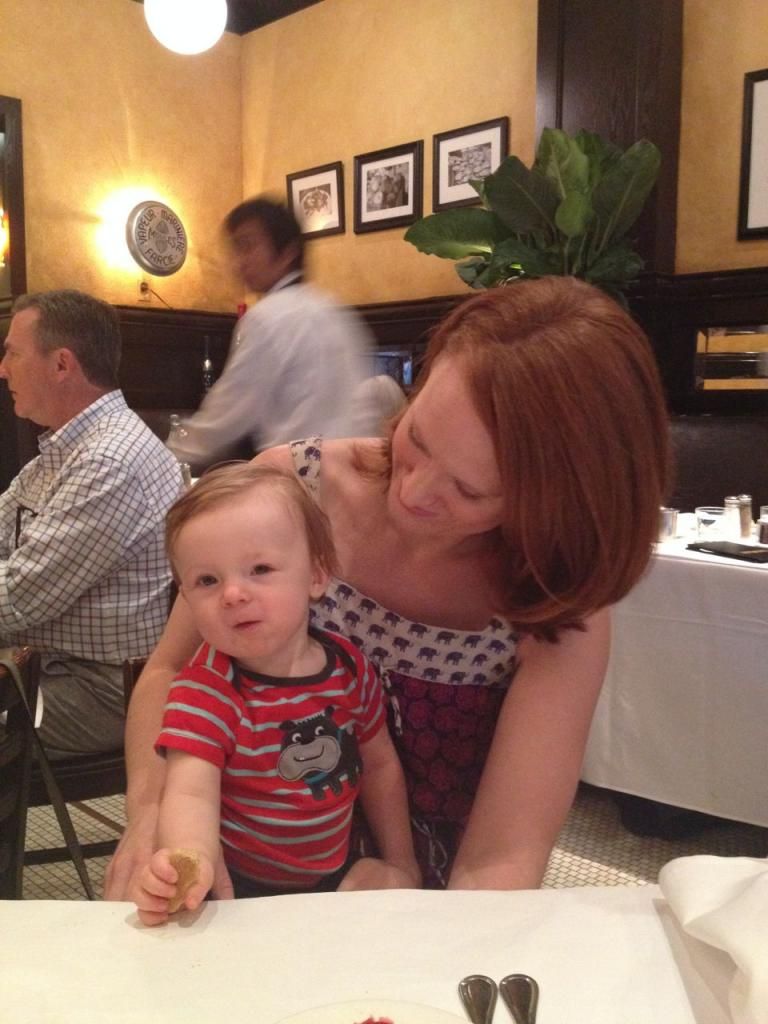 we also ventured to the
hangars
associated with the National Air & Space Museum. DH geeked out about seeing the discovery space shuttle (amongst other things)
it was really sweet to hear him explain the wonders of the world to LB (who was more interested in devouring a foam model of a space shuttle that we begrudgingly paid $6 for after he ripped off a chunk with his front teeth in the gift shop).
my mom and i also took LB to
national harbor
to visit the
children's museum
. although it wasn't as nice as its counterpart in home state, it was neat to have a space that LB could enjoy. and a trip to the nearby outlets on the way back home made the whole day a success.
as the days tick on and the amount of
constructive packing
procrastination is at an all time high, we also managed to venture out to take a tour of the
kennedy center
and ate at the infamous
mitsitam cafe
in the
national museum of the american indian
.
we barely squeezed in a peek at the
building museum
and scored a surprise view of the the
national law enforcement officers memorial
nearby. our family lost a great man when i was a little kid and it was pretty moving to see his name amidst other fallen heroes.
admittedly, despite the mass amounts of last minute sightseeing, it's been kind of overwhelming to think about the fact that, in 2 weeks, DH and i will
own a home
in our
home
state and be in the process of
settling down
. part of me is sad that the adventure might be on hold. that we might actually be stable for a bit. but stability has its own set of advantages, and i think we will be quite happy with our new normal. not to mention that we'll be back to visit my sister and soon-to-be-brother-in-law a fair amount, too.
until then, is there a magical amount of sangria that i can safely ingest and still be productive? opinions welcomed.