Well...it's almost Christmas.
So that means I should update about Thanksgiving, right?
Ha.
I should just accept that this blog has become a series of monthly update posts. To be fair, a lot of the day-to-day stuff that I would
desperately
like to blog about is off limits. For good reason. I get it. But...it's limiting. Fear not, however, because I have several ridiculous posts in store dealing with hot topics like: aggressive hair removal; spin class for people with normal butts; picking up strangers when you're lonely; and getting through the bar method class when you haven't touched your toes since sixth grade. All coming up. Get excited.
In the interim...turkey-but-not-really-turkey-b
ecause-DH-and-I-are-doing-the-"Eat to Live"-diet...day post.
First and foremost, my mom came out to visit us again. This is year number two - so I am officially declaring it a tradition. Well, at least until we get back to home state. But I digress.
When she was here, we did some stuff.
First, we saw the Rogers and Hammerstein version of
Cinderella
. My mom
loves
Rogers and Hammerstein, which means that I grew up humming right along. I saw the ad for the show on a metro bus and immediately bought tickets. The show was at a quaint community theater and there were about a dozen little girls there decked out in poofy dresses. It was pretty awesome.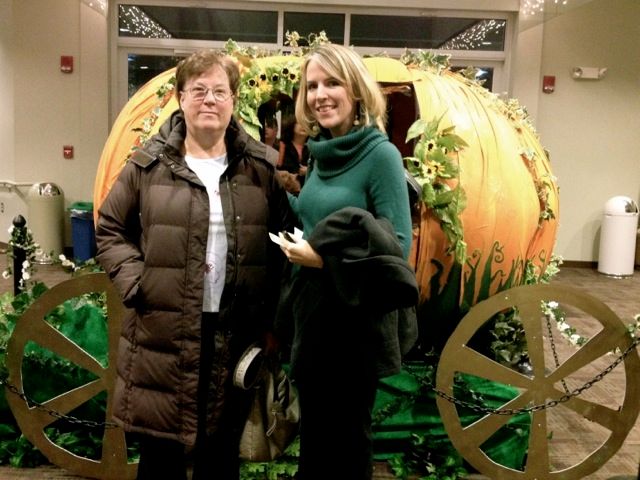 For the
main event
, I made a purely vegan feast. This is weird because I've never been vegan. And, current diet aside, I wouldn't classify myself as such. I love sushi. And milk. And you know, non-vegan things. But DH and I have been on this health kick for a little bit - so I indulged. You know, just to see if it was possible. I ended up making pumpkin curry soup, a "meat" loaf, cranberry spinach with pine nuts, sweet potato and apple casserole, zucchini/carrot muffins, and a DELICIOUS gluten-free (and vegan?!) pumpkin pie. It was actually really really good. Even DH liked it. (Although, if we're being honest, I am pretty sure it didn't make up for the fact that we didn't have Stove Top Stuffing.)
I also picked up a bottle of
Beaujolais Nouveau
. Apparently I am the last person in the world to hear about this seasonal wine. It is released annually (always around turkey day) and is intended to be enjoyed within the year of its release. (For its $15 price tag, it was worth it!)
To
burn calories
enjoy the great outdoors, DH and I also took her to see
Great Falls Park
. Even though we missed the gorgeous leaves, we had some decent weather and got to explore for a bit with the bulldog. I remember when I lived in the Vermont how amazing the sky was. You could see the milky way with naked eyes. The sky was like an astronomy book. I always feel better when I remember that nature is everywhere. (Even in cramped cities.)
We were able to round out the vacation with a trip to
the Symphony of Lights
. I suspect this drive-through lights display is very appealing to young children, but the lights in home state have ruined me as far as light displays go. Where are the displays of jumping animals? And tunnels of lights? And cocoa? I mean, what
is this
? Fortunately, we were able to find a station playing Christmas music that we belted out to get more in the spirit.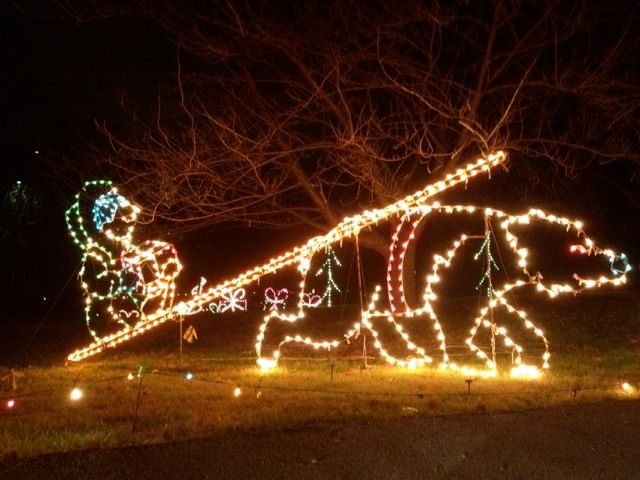 It was a good trip. And I am so so SO happy to be going back home for Christmas.